As I mentioned "Coach Jack" believes that you can get great performance without having to kill yourself on a regular basis. Among other things, is to continually do longer and longer interval durations at a gradual mostly "easy" pace and you will improve. When you stop improving it's time to start the next phase of your periodization.
Coach Jack (or we) do believe hard efforts have a place in performance. In races, for fun and during a peak period right before your critical events or season are all logical places.
We have now added some new progression patterns. You can see both a Sweet Spot Blocks Hard and a Threshold Blocks Hard below. You see in my EXAMPLE below the starting interval intensity is at 10 and this is week 13 so this is maximum hard. I suggest you start at level 1 and build up

Some people will want to go to 11

and we can respect that but Jack will not recommend it.
If you like one of the primary Jack plan options but want to change which workout is on which day you can. Jack will still apply the best practice coaching rules to what you create.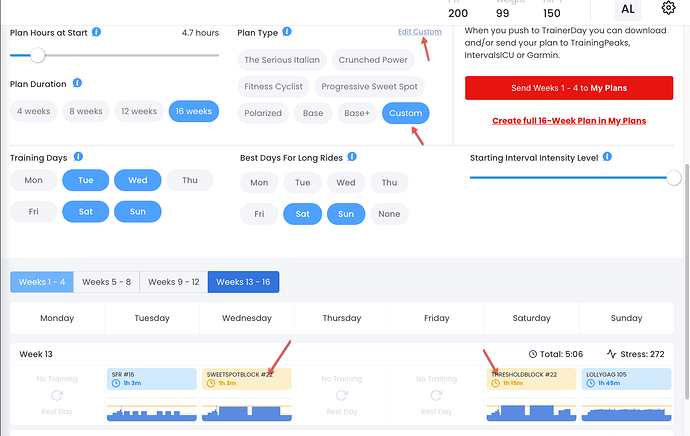 We will consider adding new sequence patterns if anyone wants to request them. Please do.
Coach Jack allows 3 hard days a week and believes that creating plans with 4 hard days requires a very good human coach to fully monitor and make sure it's actually a better plan than 3 hard days. Also that you have the life and recovery aptitude to handle it. Sleeping 9+ hours a night, 20-years old, great genetics… You get the idea.
In addition to custom plans, we also added ramp rate = 0 which attempts to give you consistent weekly hours but increased training stress. If your plan has long workouts they may not fit exactly in your weekly hours depending on how many days you train and how many weekly hours you have.