bonsoir
TOUJOURS pas de nouvelles sur la puissance virtuelle
ALWAYS no news on virtual power
Cordialement
Hello Virtual power should be here next week!!! It is done we are just testing it now.
Ok Virtual power is available today (now for Apple, soon for google).
hello
When can we expect the function for google ?
thank you
Sorry when I said "soon" I meant in a couple hours. It's there now

That's awesome! Can't wait to try it out!!
Is there some type of tutorial on how to use it?
I think I have it set up right (I connected speed + cadence sensor and set it to speed+weight > power but I don't understand how to use it in the app.
Does it take user weight into account?
Is there a 'free ride' mode (without a target power output) to test it?
Thanks so much for any guidance!
Hello Sandra, it should be as simple as connecting to your speed sensor and pedalling. You should see power estimates on the screen. It does not require any weight setting and the most important part is "relative accuracy" rather than absolute accuracy. Meaning your FTP is likely to not be perfect but all workouts will be adjusted to your "imperfect" FTP and so ultimately you are training the same as everyone else. Now if you can find your trainer on our list or we can find the power curve for your specific trainer than the accuracy will be much higher.
If you see something similar to below and when you close this screen and pedal you see power numbers than it is working. You can click on this blue link to see if your trainer is there or tell us what you have maybe we can add it in the future and for now help you find one that is close to yours.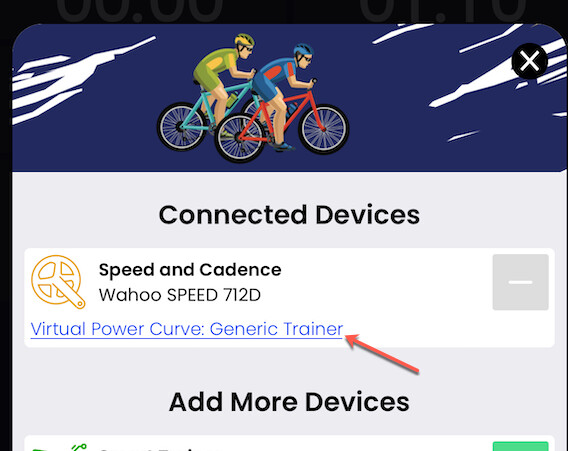 So once you are seeing power numbers then you use this trainer just like other people use it without ERG mode (meaning our app can't control your trainer) so you have to find a workout you want to do and just try to manually pedal in the gear and cadence that gets your power close to the target. I should make a video for this but sadly I don't have time right now.
Now I see how you implemented this. Wasn't able to give any advice because I don't see the latest version with VirtualPower yet for Android.
Nicely integrated

.
It is in the latest Android. Do you have a speed sensor? This is in version# 2.2.2 which you can now see the version# in settings/other options at the bottom (in case you did not see that we added it there). Just to make sure you should disconnect all devices that include a power output and only have a speed sensor connected, and also HR monitor or cadence is fine. If you have both speed and cadence as seperate units it shows this selector on both but on a dedicated cadence sensor it (obviously) will not do anything.
I just double checked the Play store and it says 2.2.2 is available for both open testers (beta users) and for production users.
I have version 2.2.2 but I don't have a speed sensor anymore. Since I installed the Assioma's I have cadence from them and speed comes from GPS signal. Less clutter on my bike.
That's why I don't see those options.
Hello
Quickly tested the viral power version, cool it seems to work!
By default I took a generic configuration
What would be the most suitable configuration, for an ARION MAG elite trainer (3 rollers) three resistance levels possible?
thank you
Cool. Let me research your trainer and let you know early next week.
Hi Alex,
I appreciate you taking the time to respond to my question directly.
I was under the impression that virtual power was for people that don't have a 'trainer'… I have a spin bike (with cadence + speed sensor) and was hoping to use the app to get some output based on the speed sensor and personal weight setting.
I selected the option below: speed + weight > power. However, I didn't know how to use the bottom part of the workout screen, where it shows the "percentage".
Is there a "free ride" option if you're not connected to a trainer?
Thanks so much for your time, I appreciate your hard work!
Sandra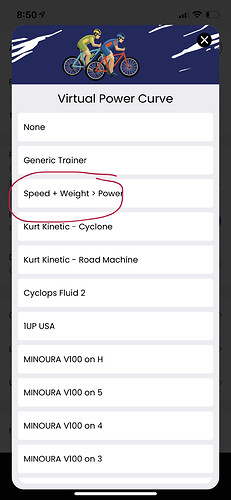 !
Sandra, yes you are correct it is for people without a power meter which is some trainers or rollers and most spin bikes. You make a good point. we should call it "Generic Training Device" or "Other Trainers, Spin Bikes and rollers."
So I would start with Generic Trainer for your spin bike. Just out of curriousity what spin bike do you have? And I assume the speed sensor is built into it (you did not add it yourself). Once you select the "Generic Trainer." I would pedal like 30kpm (assuming you can see this on your spin bike screen) and then tell me what that power reading shows in our app (Watts).
By the way I also use a spin bike most of the winter rather than a trainer so don't feel like you are out of place here. But I do have power meter pedals on it to improve accuracy but I don't feel this accuracy is that important at least for my level of training.
I have a Sunny Health & Fitness Bike and unfortunately, it doesn't provide any metrics and I had to fit it with a speed + cadence sensor myself.
I know from riding on a friend's bike that my FTP is 134 and that therefore output (in watts). should be below most of the time. Right now, when I use the "generic trainer" setting on both speed + cadence sensor, I am definitely way above that.
Oh, yes I see. I have built in power meter to my spin bike but for testing I mounted a speed sensor like you. What I realized after doing this is, mounting your own speed sensor won't work because the speed sensor has no understanding of the resistance knob it only knows "wheel" speed. Measuring speed on a real bike this way is fine but on a spin bike it is not. A resistance knob on spin bike is a little like hill slope outdoors. If you don't know the slope you can't get any where close to an accurate power estimate. Downhill and uphill at the same speed are totally different power outputs.
It would be a lot of manual labor and testing for you to create a mapping between resistance, rpm and speed to try to get some idea of power accuracy. I would say you would be better off doing heart rate based training or sell you bike and get a schwin IC5 or similar something with a power meter built in. Sorry I don't have better news. ~alex
hello
Have you been able to identify the power curves of the HT ELITE ARION MAG (rollers)?
Thank you
I found a good resolution picture with the curves and will make up the equations. I'll add a step by step procedure on how to do this.
Should be done early next week.
Oh sorry Eric, forgot to look. I just looked and seemed to find it. Let me see if one of the ones we have should work for you but we will see if we can add it specifically as well in our next release.