As I have mentioned in an other thread, the new (1.6.11 version as of Dec.16.2020) did stretch my today workout by the factor of 1.33. I logged this workout with the TP APP and in addition with my SRM head unit.
After comparing the logfiles of both units it looks like :
The workout starts at the same absolute time (09:15 UTC),
The log interval is 1s on both logs.
But the end of workout differs:
TD ends at time 11:25UTC, that is a duration of 130 minutes.
The SRM log gives the end of the workout at time 12:07 UTC, a duration of 172 minutes.
The watch on the android device ,and all other watches do agee with the SRM log!
So it looks like the TP APP ist taking the correct timestamp at the beginning of the workout and starts drifting away constantly from that point on.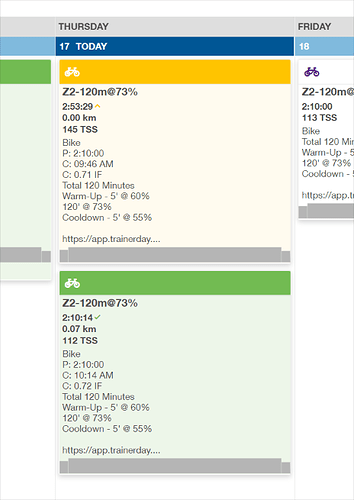 This are the two log files loaded into TP.